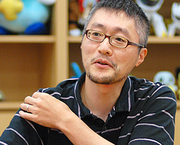 Ken Sugimori (born January 27, 1966 in Tokyo, Japan) is a Japanese video game designer, illustrator, manga artist and director. He is most famous as the character designer and art director for the
Pokémon
franchise. Sugimori is also credited with the art direction for other titles, including
Pulseman
. Sugimori drew all of the original 151 Pokémon himself. He has worked on the various
Pokémon
movies, trading cards, and other games like the Super Smash Bros
series.
Video Games
Edit
Card Games
Edit
Read More
Edit
Ken Sugimori on Wikipedia.
Ad blocker interference detected!
Wikia is a free-to-use site that makes money from advertising. We have a modified experience for viewers using ad blockers

Wikia is not accessible if you've made further modifications. Remove the custom ad blocker rule(s) and the page will load as expected.