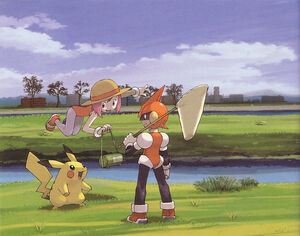 Pokémon, another video game by Game Freak, has several references to Pulseman.
References
Edit
The ship S.S. Anne from Pokémon has the same Japanese name as the computer Saint Anne (サント・アンヌ).
The move Volt Tackle is similar to Pulseman's special move Voltteccer, and they have the same Japanese name. In the game Super Smash Bros. Brawl, it looks a lot more similar.
Team Galactic, the gang from the game Pokémon Diamond, Pearl, and Platinum, gets its name from the Galaxy Gang.
Ken Sugimori, the artist for Pulseman, also works on Pokémon.
Barry's battle music has several notes that resemble a portion of Neo Tokyo's music from Pulseman (Junichi Masuda also composed for Pulseman). Many other pieces of music from Pulseman also have similar features to Pokémon music.
Registeel's design mimics the design for the boss in the Stage 4 of the Pulseman .
Hariyama's name can be a corruption of Doc Waruyama's name.
External Links
Edit
Ad blocker interference detected!
Wikia is a free-to-use site that makes money from advertising. We have a modified experience for viewers using ad blockers

Wikia is not accessible if you've made further modifications. Remove the custom ad blocker rule(s) and the page will load as expected.